Article excerpt from The BAKKEN magazine written by Patrick C. Miller 12/2/15:
When it comes to getting gas flaring under control in the Bakken, the idea that opposites attract might provide the best solution to what has become a constant issue for the oil and gas industry. An unlikely coalition of organizations has completed a successful test of a waste-heat-to-energy system that marries an old technology with a new one.
In mid-November, a demonstration project conducted by Environmentally Friendly Drilling—a Texas-based organization that includes major oil producers, research entities and environmental groups—was completed at a Hess Corp. well site in McKenzie County. The test system combined a low-tech industrial boiler with a high-tech generator that used produced gas to generate electricity.
The system was developed by ElectraTherm Inc. of Reno, Nevada. The equipment was set up at the North Dakota well site and operated by Gulf Coast Green Energy, an ElectraTherm distributor headquartered in Bay City, Texas. Project funding was provided by the U.S. Department of Energy's Research Partnership to Secure Energy for America program and the Houston Advanced Research Center through its EFD program.
Although the concept of using well-site gas to generate electricity isn't new, ElectraTherm's approach of using an industrial boiler paired with its Power-plus Generator is unique and has helped other industries such as landfills and waste water treatment facilities deal with their waste-gas problems. John Fox, ElectraTherm CEO, says the North Dakota test was the first time the company's system was used in a gas-flaring operation.
"Lots of businesses have this same problem," he says. "They don't know what to do with waste methane gas. We can do something that's not capital intensive by using industrial boilers to handle untreated gas. If there are fluctuations in the gas content or flow, the boiler doesn't care."
Read the article in its entirety here: http://thebakken.com/articles/1374/the-case-for-new-gas-capture-tech
Article Highlights:
In addition, Fox says, "The emissions profile of the site is greatly improved, the power is consumed on site and the equipment is easy to install and maintain."
Richard Haut, HARC program director for energy production, considers the demonstration a complete success.
"I'm amazed at how well it's gone," he says. "The little amount of downtime we've had, for this being a pilot project and how well it's functioned, it's been first-class all the way through."
Loy Sneary, CEO of GCGE, says that from his company's perspective, the demonstration of ElectraTherm's technology proved that it could work with Bakken gas with few problems and minimal involvement by the well-site operator…..Sneary "What surprised us is how little we needed to learn about what we're doing," he explains. "It's not a complicated process; it's fairly straightforward. The good news is that we didn't find any issues that we weren't able to remedy very quickly."
The research project took place at a Hess well site in the Blue Buttes area on the south side of the Missouri River, northwest of Mandaree and east of Watford City. The remote location was in the heart of the Bakken where it makes the most economic sense to drill during the low-oil-price environment.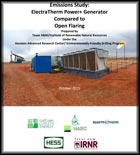 Click here to view the full report prepared by Texas A&M/Institute of Renewable Natural Resources under HARC/EFD.
Watch a 5 min video on the highlights of the project and the ease of installation: