Article from Bakken Magazine written by Patrick C. Miller 10/28/15:
Officials with the Iraq Ministry of Oil and the U.S. Department of Energy (DOE) were in western North Dakota this week to study gas capture technologies and gas-powered electrical generation facilities.
Hamed Younis Saleh, Iraq's deputy minister of gas affairs, and Hillal Ali Ismaeel Mushtaq, director of the general studies directorate, arrived in Bismarck on Monday. Accompanying them were Friedmann, Josh McKearin—a DOE international affairs specialist—and an American capital investor living in Iraq.
According to Julio Friedmann, DOE principal deputy assistant secretary for fossil energy, Iraq flares 1.2 billion cubic feet annually of associated gas from oil production because the country lacks the infrastructure to gather the gas and transport it to central power stations.
"They are developing the infrastructure, but it's going to take time," he said. "They're seeking ways to bring their gas to market through power production. That will help their industry, their economy and it will help their government."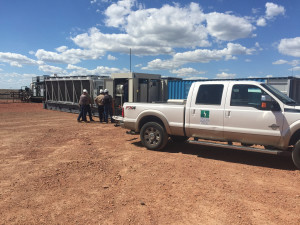 On Wednesday, the group toured a gas capture research project at a Hess Corp. well site in the Blue Buttes area of McKenzie County being conducted by the Environmentally Friendly Drilling (EFD) Program run by the Houston Advance Research Center (HARC). Funding for the project was provided by DOE's Research Partnership to Secure Energy for America (REPSEA) program and HARC.
The demonstration project uses a waste heat-to-power technology developed by ElectraTherm Inc. of Reno, Nevada. The company is collaborating on the project with Gulf Coast Green Energy (GCGE), an ElectraTherm distributor headquartered in Bay City, Texas.
Read more of this article published by The Bakken Magazine on 10/28/15 here: http://thebakken.com/articles/1345/iraqi-delegation-seeks-flaring-solutions-in-the-bakken