FREE On-line Workshop 
The Environmentally Friendly Drilling Systems Program (EFD) hosted a one hour webinar to highlight the successful Gulf Coast Green Energy flare reduction project which EFD sponsored in North Dakota on a Hess Corporation well.
The purpose of the project was to put flare gas to a beneficial use by using a simple to install and maintain Organic Rankine Cycle (ORC) generator to reduce flaring and produce power at the well site.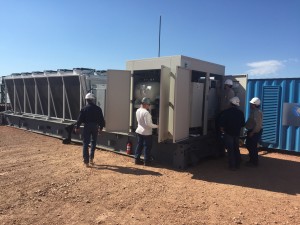 EFD and HARC contracted with Gulf Coast Green Energy (GCGE) for the field demonstration. GCGE is a distributor for the ElectraTherm Power+ Generator which generates power from waste heat.
The web based meeting highlighted EFD's goals and objectives for the project and its commitment to validating new and innovative commercial solutions for the O&G industry.
Also, we presented an overview of the technology and the project from design, installation and commissioning through successful sustained operations. The program included EFD's director, Rich Haut and the CEO's of ElectraTherm and GCGE.
Watch the Recorded Webinar