Gulf Coast Green Energy is the authorized representative for Air Burners, Inc., manufacturers of the Air Burners Air Curtain FireBox pollution control technology which simply pumps air into Air Burner's fire box where the material is burning. The extra air flow and oxygen greatly shortens the time it takes to burn the fuel. The air curtain makes it possible to burn high-moisture content wood immediately with little or no smoke. The result is a very clean natural burn with no supplemental fuels, and a 90% reduction in particulate releases. This allows for opacities well under 10% using the EPA Method 9 testing. (Open burning will typically run at 80% to 100%).

Air Burners fire boxes are used in forests and by landfills and have been proven to be one of the most cost effective and environmentally friendly ways to deal with large amounts of wood and vegetative waste. The technology is well proven and the machines have been subjected to extensive testing by numerous environmental agencies worldwide. Air Burners is a CRADA partner with the US EPA, and we works closely with the US Forest Service (USFS Tech Tip 0251-1317), the Department of the Interior, the Department of Energy and the US Military. The machines are currently used by numerous communities, state agencies and national parks.
Air Burners offers several sizes for various applications.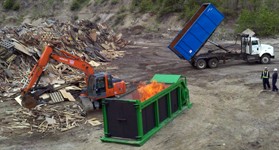 The PG Firebox is a new release for Air Burners and is the first portable machine for power generation from large scale biomass . The PG Firebox is a portable self-contained unit which generates significant amounts of electricity from vegetative waste and is the fastest, most environmentally friendly method for reducing vegetative waste like wood pallets, branches, stumps, boards and sawmill cuttings. It captures the heat from the burning materials and uses the heat to power a waste heat to power (WHP) generator manufactured by ElectraTherm to generate on-site power.
Gulf Coast Green Energy also distributes the ElectraTherm Power+ GeneratorTM for many other WHP applications. Click here for more information about the Power+ GeneratorTM.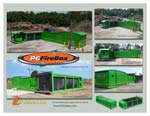 Air Burners FireBox Information PDF Click here to take a deeper look at how this technology can benefit your business.