The Business Case for Waste Heat to Power
Because our equipment is 20 year equipment, the Internal Rate of Return (IRR) is extremely attractive.  Our technology can generate base load power, turning a variable cost (electricity) into a fixed cost for 20 years.  In addition to helping companies be more profitable our technology also adds additional environmental responsibility and sustainability.
The following are the primary benefits of GCGE's waste heat to power equipment:
Increases energy efficiency and optimization

Reduces energy cost

Provides on-site distributed power generation

Creates a new profit center
Compressed Gas to Power: Compressed gas typically requires cooling. The Power+ GeneratorTM will reduce the cost to cool the gas by as much as 50% and at the same time make power which can be used to power additional electric compressors. This adds more gas throughput and increased profit… all from heat which previously required expensive cooling units and the power to run them. This is heat that was previously just being wasted.  The Power+ GeneratorTM compressed gas solution also adds additional value in emissions-capped areas where another fossil fueled engine cannot be easily added. This is an efficient way to stay within air permit levels and increase plant throughput and profitability. By cooling compressed gas with the Power+ GeneratorTM, cooling equipment capital costs are reduced and so is the cost of power to run them, adding to the overall plant efficiency and bottom line. The heat of compression actually becomes a new source of revenue.
Call us to discuss the potential for increased profit and lowered cost for your waste heat to energy project at (979) 240-3512.
Reduce Energy Costs
One of the great benefits of utilizing waste heat to power equipment for facilities that currently use power in a cooling process is that they will not only recover their waste heat and turn it into electricity, but will reduce the cost of power used for the cooling process.
Add additional Horsepower to stationary engines

Reduce fuel consumption
Reduce Cost of Process Cooling
Mid-Stream Natural Gas Processing requires cooling compressed gas. Our waste heat to power (WHP) technologies can significantly reduce the power required to cool the gas and generate on site power at the same time.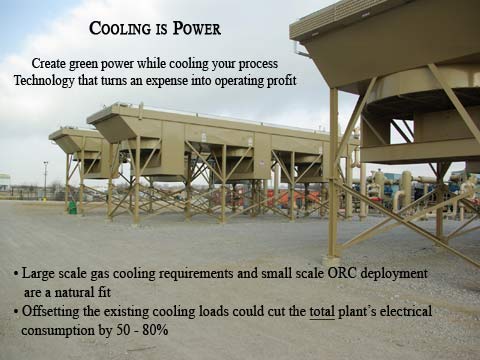 Investing in our WHP technologies creates new energy efficiencies and will give the power sector greater flexibility in meeting air pollution emission standards, achieve multi-pollutant emission reductions, and help America to be more energy secure.
Our waste heat to power technologies are a perfect fit for distributed generation, reducing the need for more transmission lines and infrastructure. With the exponentially growing demand for electricity, the old model of centralized power generation which requires expensive transmission and distribution power lines crisscrossing the country is changing to Distributed Generation which generates power at or near the site where it is used. Not only is distributed generation less expensive, it reduces the need for new power plant and power line construction.
Reduce Emissions
Not only will our waste heat to power (WHP) technology reduce power bills, emissions will be reduced by reducing the amount of coal required to produce the same amount of power.  Our WHP technology will reduce the industrial exhaust gas vented to the atmosphere by as much as 70 percent.
Example: 4 Power+ GeneratorsTM used on just one gas compressor engines will avoid as much as 1,601 tons of CO2/year. OR:
The greenhouse gas emissions from 198 passenger vehicles each year. OR

The CO2 emissions from:

Burning 5.6 rail cars worth of coal

Electricity use of 143 average American homes for one year

Reduced NOx: 2.47 Tons

Reduced SO2: 6.38 Tons

Reduced Carbon: 396 Tons
Ref:  http://www.epa.gov/CHP/basic/calculator.html,  http://www.epa.gov/grnpower/pubs/calculator.html
Contact us today to learn how we can help turn your waste heat to power (979) 240-3512.