Gulf Coast Green Energy (GCGE) is a distributor for ElectraTherm's revolutionary small scale on-site waste heat to power generator known as the Power+ GeneratorTM.  GCGE serves as a distributor of this revolutionary renewable energy technology in the Gulf Coast states from Texas to Florida. GCGE holds the distinction of being the first company to install a Power+ GeneratorTM, which happens to be the first commercially viable small scale waste heat generator that we know of supplying under 1MW of power.  The Power+ GeneratorTM line of waste heat to power generators can supply 35- 110kWe. And, it is American made!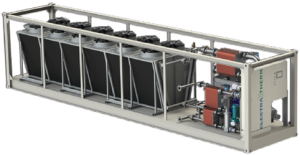 Each Power+ GeneratorTM unit combines traditional components with patented, cutting-edge technology to create electricity from waste heat.  The Power+ GeneratorTM uses a closed-loop Organic Rankine Cycle (ORC) to create pressure by boiling EPA and Kyoto-approved chemical working fluids into gas. The gas expands in a one way system and turns a patented Twin Screw Expander, which drives a generator that outputs electricity.
Small Scale Waste Heat to Power Generators
Historically, ORCs incorporating turbo-expanders have not been commercially viable in sizes less than 1MW. By replacing turbo-expanders with Power+ GeneratorTM's patented, robust, low-cost Twin Screw Expander, users benefit from a quick return. Our systems provide unattended operation and negligible maintenance.
Power+ GeneratorTM Heat to Power Generator Details:
Organic Rankine Cycle (ORC) waste heat-to-power generating system.
Generates 35kWh – 110kWh, emissions-free electricity
Captures waste energy from small, distributed hot water waste heat sources:

stationary engine jacket water and exhaust gas, biomass boilers, solar thermal and co-produced (or geothermal) fluids

Factory assembled and tested
Skid mounted-available as a single unit or in multiples to match the available heat.
Performs best with hot water flows of 120-200 GPM 190-240°F (88-116°C).
Condensing options: liquid loop radiator, direct air-cooled condensers,  cooling tower or surface water flows from 120-200 GPM with ideal temperatures between 40-100°F
Current upper limit for input to the machine is 240°F. Secondary loop used for higher temperature
Self-contained, fuel-free, 100% environmentally friendly and produce zero CO2 emissions. No EPA permitting is required.
Minimal estimated costs, approximately $.03 US/kWh generated
Power+ GeneratorTM Benefits:
The lowest heat requirements in the industry
Flexible and scalable options
The lowest operation & maintenance requirements in the industry
Fuel free, emissions free solutions
Non-combustion processes
Modular or mobile alternatives
The Power+ GeneratorTM is proven. It has been used for more than four years in working industrial environments, producing real cost savings for our clients. ElectraTherm, Inc.'s Waste Heat Generator technology became commercially available in January 2007. Gulf Coast Green Energy was the first to embrace the visionary technology offered by ElectraTherm becoming their inaugural distributor.The Power+ GeneratorTM relies on standard parts, pumps and piping along with proven proprietary hardware, controls and system design. The Power+ GeneratorTM components  have demonstrated its value in high load, industrial applications for decades.  This system is modular and can be coupled with multiple Power+ GeneratorsTM as well as other green energy technologies like our Sopogy solar thermal products and our large scale H2P equipment made by Turbine Air Systems.
Cost Benefit of Fuel-Free, Emission-Free Electricity
As a distributor, installer and service provider for the Power+ GeneratorTM, Gulf Coast Green Energy, brings you affordable, efficient, clean and earth-friendly on-sight energy.  Sounds too good to be true?  Visit the Featured Projects page of our website to see how our clients are saving energy and generating zero emissions electricity.  Each one of our clients is directly and dramatically lowering the cost of doing business while creating higher profits and happier shareholders.
Companies whose energy usage produces waste heat are prime candidates for ElectraTherm's pioneering energy technology and Gulf Coast Green Energy's expert implementation and service.
Our Technology Integrates With Many Heat Sources
Reciprocating Engines
Biomass
Boilers
Solar Thermal
Industrial Processes (gases, liquids, discarded steam, thermal oxidizers)
Geothermal/ Oil and Gas production
Mid-Stream Natural Gas Processing
How It Works
Imagine a tea kettle on a stove.  When heat is applied to the bottom of the kettle, the water in it boils and emits pressurized vapor through the cap and creates a whistle.  By holding a child's pinwheel in the flow of emitting water vapor, the pressure from the steam spins the pinwheel.
With enough pressure, the spinning propeller will light a small bulb if attached to a generator.
The concept of ElectraTherm's WHG is the same. We capture a heat source, which boils the working fluid and produces a gas.  The gas expands in a one-way, closed piping system and its pressure turns the expander, which drives a generator and puts out electricity.
The Working Process
ElectraTherm has employed the proven Organic Rankine Cycle in its Waste Heat Generator solution (WHG).  The graphic below shows the working process for the ElectraTherm WHG which uses a non-flammable, eco-friendly refrigerant selected for high performance at low temperature.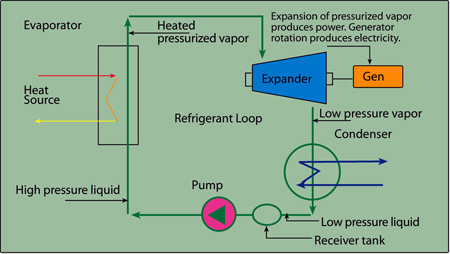 Surplus heat captured by the evaporator is used to "boil" the working fluid into a vapor.  Once under pressure, the vapor is forced through the screw expander, turning it to spin an electric generator.  The vapor is cooled and condensed back into a liquid in the condenser.  The working fluid liquid refrigerant is then pumped to higher pressure and returned to the evaporator to repeat the process.
Next Steps
Please contact us to see if the Power+ GeneratorTM is the right fit for your project.  We can determine in a phone consultation if your waste heat source is compatible with the operating specifications of the Power+ GeneratorTM.  The next step is to conduct and on-sight evaluation.  Our engineers work with you and the ElectraTherm engineering team to ensure that your installation is maximized for the highest return for your company.
| | | |
| --- | --- | --- |
| 4200 Spec Sheet | 4400 Spec Sheet | 6500 Spec Sheet |
| | | |